Florida's Economic Outlook Upgraded
Agents should routinely verify the licensure of the companies for which they're selling.
Leer más > >
Dear friends,
This week, the Fitch Rating Agency reaffirmed Florida's AAA credit rating and upgraded our outlook from negative to stable. Fitch's announcement is great news for our state and an affirmation that our efforts to grow the economy, decrease debt and ensure government accountability are paying off.
Florida's AAA rating translates directly into savings for Florida taxpayers by keeping our borrowing costs low and keeping taxpayer dollars where they belong - in the pockets of our citizens. Floridians know best how to spend their money and in turn that strengthens our economy.
The Fitch report attributes Florida's upgrade to a trend of economic stabilization and the implementation of fiscally prudent measures, such as a balanced state budget. Because of Florida's sound financial practices today, Florida is going to be more prosperous tomorrow.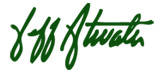 Jeff Atwater
Oficial Principal de Finanzas
Estado de la Florida