The 2013 Legislative Session is Here
Agents should routinely verify the licensure of the companies for which they're selling. If you suspect an entity is not authorized or licensed to transact insurance in Florida, from Florida or with residents of Florida, please notify our office. Report suspected unlicensed activity. Call 877-MY-FL-CFO (1-877-693-5236).
Leer más > >
Dear friends,
With the 2013 Legislative Session in full swing, I continue to focus my efforts on reforms that increase government transparency and accountability, protect Florida's consumers, fight fraud and get government off the backs of hardworking Floridians in order to foster greater economic prosperity.
A medida que nuestra economía comienza a recuperarse, creo firmemente que tenemos una responsabilidad aún mayor de luchar por reformas que promuevan una estabilidad a largo plazo para las familias y la comunidad comercial de la Florida.
For more information about my 2013 Legislative Agenda, please visit http://www.MyFloridaCFO.com/sitePages/newsroom/pressRelease.aspx?id=4138.
I am confident that our legislative leaders are as committed to protecting Florida's consumers and taxpayer dollars as I am. I look forward to working with legislative leaders on these priorities that I know will help our state and Florida's families continue on a road towards long-term economic prosperity.

Your feedback plays an integral role in how we continue to provide you with better service. I hope you will take a moment to email us your feedback and suggestions. Thank you for all you do.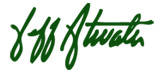 Jeff Atwater
Oficial Principal de Finanzas
Estado de la Florida