Session Ends as Hurricane Season Approaches
Agents should routinely verify the licensure of the companies for which they're selling. If you suspect an entity is not authorized or licensed to transact insurance in Florida, from Florida or with residents of Florida, please notify our office. Report suspected unlicensed activity. Call 877-MY-FL-CFO (1-877-693-5236).
Leer más > >
Dear friends,
The 2013 Legislative Session adjourned Sine Die on Friday, May 3rd. Some of the hot topics during this year's Session focused on the Patient Protection and Affordable Care Act (PPACA), enhanced consumer protection for annuities, and property insurance reform. Other insurance-related provisions in various bills were also passed that will have an impact on the work we do in monitoring the industry and protecting Florida's citizens.
While it's still too early to tell what all legislation will be signed by the Governor, please know that we will continue to keep you informed as there is some legislation that impacts some of our licensee population. Be sure to check out the In The Know section where we highlight some of the passed legislation.
Next month marks the beginning of the 2013 Atlantic Hurricane Season. As Floridians, we know all too well the impact a storm can have on our homes or businesses, both structurally and financially. The importance of preparing for hurricanes cannot be stressed enough. Take the necessary steps to help you and your customers protect their families, homes and businesses. My Division of Consumer Services' website, www.MyFloridaCFO.com/Division/Consumers, offers videos, brochures, resources and tips, along with a disaster preparedness section that includes a home inventory checklist that can assist you and your customers.
Your feedback plays an integral role in how we continue to provide you with better service. I hope you will take a moment to give us your feedback and suggestions. Thank you for all you do.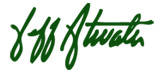 Jeff Atwater
Oficial Principal de Finanzas
Estado de la Florida