Flood Insurance Reform Needed
Agents should routinely verify the licensure of the companies for which they're selling.
Leer más > >
Dear friends,
This week, I again called on Congress to take immediate action to spare Floridians from the devastating rate hikes forthcoming as result of reforms to the National Flood Insurance Program (NFIP). These changes, set to begin October 1, will dramatically increase the costs of flood insurance, and in a number of instances actually expand and redefine flood zones and risks.
The NFIP was created to help families who live in flood prone areas, and I understand the importance of improving its financial stability. Unfortunately, there is no guarantee the scheduled changes will improve the program because of the possibility that they create further instability in what is already a delicate real estate market. Our state's real estate market will be hard-pressed to withstand the shock of unexpected flood insurance cost increases, which will make it more difficult to own or sell a home.
I have made it clear to every member of Florida's congressional delegation, Republican and Democrat alike, that the scheduled changes will bring significant financial hardship to unsuspecting Florida families already facing economic challenges. I hope that you too will contact your U.S. Senators and Representatives, and let them know that they need to quickly act to correct a harmful policy.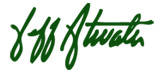 Jeff Atwater
Oficial Principal de Finanzas
Estado de la Florida