The 2014 Legislative Session is Here
Agents should routinely verify the licensure of the companies for which they're selling.
Leer más > >
Dear friends,
Every year, I look forward to working with the Legislature in an effort to increase efficiencies and keep more money in the pockets of hard-working Floridians. This year, we have identified several areas that will allow us to accomplish these goals, which ultimately makes our government more accountable and beneficial to the people we serve.
The 2014 Legislative Session began this month, and this year I am focusing on ensuring consumer rights and protections, reducing regulatory burdens and fighting fraud.
For more information about my 2014 legislative focus, please visit the page detailing my legislative initiatives this year.
I am grateful for the input and support I receive everyday from Floridians about fighting financial fraud, abuse and waste in government; reducing government spending and regulatory burdens that chase away businesses; and providing transparency and accountability in state spending. I am also grateful for the legislators who are working with us on these efforts, which will make our state more consumer and business friendly.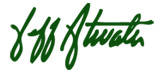 Jeff Atwater
Oficial Principal de Finanzas
Estado de la Florida