Holocaust Remembrance Day - Let Us Never Forget
Agents should routinely verify the licensure of the companies for which they're selling. If you suspect an entity is not authorized or licensed to transact insurance in Florida, from Florida or with residents of Florida, please notify our office. Report suspected unlicensed activity. Call 877-MY-FL-CFO (1-877-693-5236).
Leer más > >
Dear friends,
April 16 marked Holocaust Remembrance Day in Florida and across our nation. While the history of the Holocaust represents a dark time in history, this day, also known as Yom HaShoah, pays tribute to the memory of the victims of the Holocaust and honors survivors. It gives us a chance to rededicate ourselves to the principles of human dignity and individual freedom in a just society to ensure that such atrocities are never repeated.
While the victims' suffering can never be fully repaid, we must do what is possible to assist these individuals. That is why, in 2011, I partnered with 23 financial institutions in Florida to waive the wire transfer fees from reparation payments that victims receive from the German government. Additionally, in 2013, I supported legislation to allow the Department of Financial Services to expand our scope of assistance to include the recovery of financial claims, assets, and property.
I am proud to say that since January 1, 2011, through the DFS Holocaust Victims Assistance Program, we have recovered more than $5.2 million on behalf of Holocaust survivors for a total of nearly $21 million provided to survivors since the program started. If you are in need of assistance, I encourage you to visit our website or call 1-800-388-4069.
This month let us pause for a moment to reflect on the moral responsibilities of individuals, societies and governments in order to remain vigilant against hatred, persecution and tyranny. And most importantly, let us never forget.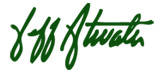 Jeff Atwater
Oficial Principal de Finanzas
Estado de la Florida