Florida's International Trade
Agents should routinely verify the licensure of the companies for which they're selling. If you suspect an entity is not authorized or licensed to transact insurance in Florida, from Florida or with residents of Florida, please notify our office. Report suspected unlicensed activity. Call 877-MY-FL-CFO (1-877-693-5236).
Leer más > >
Dear friends,
An important part of my job as Florida's Chief
Financial Officer is to keep my finger on the pulse of our state's economy, but what's even more important is that I keep you apprised about the state of our economic growth and development. One unique way of doing so is through our quarterly economic magazine called Florida's Bottom Line that focuses on providing the latest news and helpful analysis on Florida financial health. This week, we're releasing the magazine's summer edition, and we're talking about international trade.

International trade is one of the most important elements of our economy as it embodies the global success of business across our state. Successful international trade diversifies and grows our economy, and more than 60,000 Florida businesses have already reached far beyond our shores through innovation and hard work.

The movement of goods and services across a diverse array of global markets is no easy feat. It requires state-of-the-art technologies and logistics infrastructures, and I'm proud to say that Florida has succeeded at putting these complex systems in place. As the ever-innovating world economy continues to expand, Florida must continue to make strategic investments in order to remain a key player in major global trade lanes. Our investments are already at work--deepening our ports to accommodate larger ships and strengthening rail lines to increase the speed at which goods flow through our state.

This edition showcases Florida's growing presence as a hub for international trade, and our readiness to grow alongside global markets. Inside, you will find commentary from international trade experts, an update on the overall health of our economy, and the facts behind why Florida remains one of the most business-friendly states in the nation.

Visite www.myfloridacfo.com/FloridasBottomLine to get current and past editions. I hope you will find the information useful and engaging. I invite you all to learn more about this important and emerging piece of our state's economic future. By engaging in international commerce, we're sharing the ingenuity and innovation of Florida's entrepreneurs with the world.

Atentamente,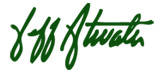 Jeff Atwater
Oficial Principal de Finanzas
Estado de la Florida