Perspectiva Económica de la Florida
Agents should routinely verify the licensure of the companies for which they're selling. If you suspect an entity is not authorized or licensed to transact insurance in Florida, from Florida or with residents of Florida, please notify our office. Report suspected unlicensed activity. Call 877-MY-FL-CFO (1-877-693-5236).
Leer más > >
Dear friends,
Florida's 2014 GDP figures were released this month and once again Florida's exceptionalism shined through. While recession recovery efforts continue, our economy has been growing since 2011, and we continue to outpace the nation. Not only have we grown each year since 2011, each year has brought faster, stronger growth.
Higher still than the state's 2.7 percent overall GDP growth was Florida's private sector growth, which landed at 3.2 percent in 2014--once again higher than the national average. What does this mean to you? It means that Florida is creating the conditions for economic success. By getting out of the way of the entrepreneurial spirit, we're helping Florida's businesses grow, flourish and expand. This means more, better-paying jobs and greater opportunities for success in the years to come.
The numbers telling the Florida story don't stop there. Last year, Florida was ranked number one in aerospace manufacturing attractiveness and the second best state in the country to do business. Florida boasts the third highest number of technology establishments in the country and is fourth in the nation for technology industry workers. Therefore, we're not only growing, we are diversifying. We are expanding our horizons to embrace the technology industry and welcoming these burgeoning businesses with open arms.
These success stories can be seen each day, all across our state. Miami was recently named the second best metropolitan statistical area for startup activity in the country. It's also home to the number one cruise port in the world. The largest single-site employer in the United States, Walt Disney World, calls the Orlando area home. Florida's high tech corridor, which includes Gainesville, Orlando, Lakeland, St. Petersburg and more, creates cutting-edge aviation and aerospace advancements with an economic impact of $1.2 billion. This area is also responsible for creative digital media advances that many of us enjoy each day, including top-selling video games.
Panama City está en el puesto número uno entre las comunidades de playa del sur favorables a los negocios y la entrada del oeste al Estado del Sol, Pensacola, está entre los 10 grupos de aviación y aeroespacio más exitosos del sur.
As you can see, the future looks bright and opportunity can be seen for miles. Let us never forget that Florida is more than our beautiful beaches and laid-back lifestyle. Let us always push to do better, and let us celebrate what we continue to do well.

Atentamente,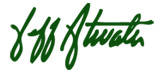 Jeff Atwater
Oficial Principal de Finanzas
Estado de la Florida