May is Military Appreciation Month
Agents should routinely verify the licensure of the companies for which they're selling. If you suspect an entity is not authorized or licensed to transact insurance in Florida, from Florida or with residents of Florida, please notify our office. Report suspected unlicensed activity. Call 877-MY-FL-CFO (1-877-693-5236).
Leer más > >
Dear friends,
Mayo es el Mes de Reconocimiento a los Militares, y si bien los hombres y las mujeres valientes que sirven a nuestro país merecen ser elogiados todos los días, este mes ofrece una oportunidad única de reconocer el compromiso y los sacrificios de los militares actuales y retirados.
Florida is home to more than 61,000 active service members and 12,000 National Guard members who report to one of the state's 20 major military installations. In addition to these men and women, more than 1.5 million veterans have chosen to call our state home, which accounts for the third largest veteran population in the country. Because Florida keeps taxes low and has created the conditions for economic success, veterans are choosing to build businesses across Florida - businesses that contribute greatly to our growing economy.
In fact, according to the U.S. Small Business Administration, veterans are 45 percent more likely than their civilian counterparts to become successful entrepreneurs. Currently, Florida ranks third in the nation for the highest number of veteran-owned businesses, which generate $62 billion in revenue annually and employ more than 310,000 Floridians. One in every 11 businesses in Florida is owned by a veteran, which means more than likely you've shopped at a veteran-owned business in your community. These numbers show that from the frontlines to storefronts, Florida's veterans are continuing to serve.
Florida's veteran population is both robust and dynamic, consisting of 160,000 women veterans, 1.2 million wartime veterans and more than 231,000 veterans who served in Iraq or Afghanistan. Throughout the month of May, our Department will highlight a few of these men and women from across Florida for their leadership in service and in business. I encourage you to visit the Department of Financial Services' Facebook and Twitter pages to read their inspiring stories.
I am eternally grateful to all active duty service members and veterans for their commitment to our country, and I will remain steadfast in my commitment to upholding Florida's reputation as one of the most military-friendly states in the nation. I hope you will take time this month to say thank you to the men and women in your lives who have served or continue to serve valiantly to enable all of Florida and the United States to thrive in freedom and liberty.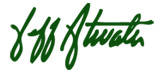 Jeff Atwater
Oficial Principal de Finanzas
Estado de la Florida